HPE DL380 Gen10 8SFF 4208 Rack Server
HPE DL380 Gen10 8SFF 4208 Rack Server
---
---
HPE DL380 Gen10 8SFF CTO Server 1
HPE DL380 Gen10 Xeon-S 4208 FIO Kit 1
HPE 16GB 2Rx8 PC4-2933Y-R Smart Kit 1
HPE DL38X Gen10 Universal Media Bay 1
HPE 9.5mm SATA DVD-ROM Optical Drive 1
HPE 96W Smart Storage Battery 145mm Cbl 1
HPE Smart Array P408i-a SR Gen10 Ctrlr 1
HPE 800W FS Plat Ht Plg LH Pwr Sply Kit 1
HPE 2U SFF Easy Install Rail Kit 1
HPE 600GB SAS 10K SFF SC DS HDD 3
---
Technical Specs:
| | |
| --- | --- |
| Processor(s) | Intel® Xeon-Silver 4208 (2.1GHz/8-core/85W) |
| Memory | HPE 16GB 2Rx8 PC4-2933Y-R Smart Kit |
| Hard Disk | 3 x HPE 600GB SAS 10K SFF SC DS HDD |
| Storage Controller | HPE Smart Array P408i-a SR Gen10 Ctrlr |
| Network Controller | HPE Ethernet 1Gb 4-port FLR-T I350-T4V2 Adapter |
| Power Supply | HPE 800W FS Plat Ht Plg LH Pwr Sply Kit |
| Warranty | 3-Year Parts, 3-Year Labor, 3-Year Onsite support with next business day response |
| Optical Drive | HPE 9.5mm SATA DVD-ROM Optical Drive |
HPE ProLiant DL380 Gen10 Server

The HPE ProLiant DL380 Gen10 server delivers the latest in security, performance and expandability, backed by a comprehensive warranty. Standardize on the industry's most trusted compute platform. The HPE ProLiant DL380 Gen10 server is securely designed to reduce costs and complexity, featuring the First and Second Generation Intel® Xeon® Processor Scalable Family with up to a 60% performance gain1 and 27% increase in cores2, plus the HPE 2933 MT/s DDR4 SmartMemory supporting 3.0 TB. It supports 12 Gb/s SAS, and up to 20 NVMe drive plus a broad range of compute options. Intel® Optane™ persistent memory 100 series for HPE offers unprecedented levels of performance for databases and analytic workloads. Run everything from the most basic to mission-critical applications and deploy with confidence.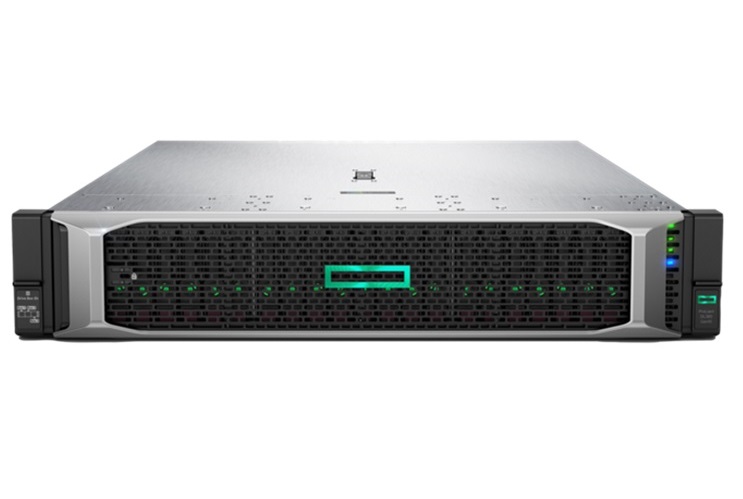 What's New
Defend applications and data before your server is built with the new HPE Trusted Supply Chain offering.
Supporting additional second generation Intel® Xeon® Scalable processor family offerings.
Increased Single-Width GPU Density with up to 7 NVIDIA Tesla T4 16GB Computational Accelerators or 7 Xilinx Alveo U50 Accelerators supported in a standard-depth 2U rack form factor
Networking Choice (NC) server models provide greater flexibility in the primary networking selection.
Intel® Optane™ persistent memory 100 series for HPE offers the flexibility to deploy as dense memory or fast storage and enables per-socket memory capacity of up to 3.0 TB.3
iLO 5 security enhancements: Server Configuration Lock, iLO Security Dashboard and Workload Performance Advisor. HPE InfoSight provides cloud-based analytics to predict and prevent issues proactively.
Key Features
Defend Applications and Data Before Your Se​rver is Built with HPE Trusted Supply Chain
World-Class Performance featuring Enhanced Compute Density
Flexible Design Making Your Investment Expand As Your Business Needs Grow
Industry Leading Services and Ease of Deployment