Dell PowerEdge R730 2U Server 8x SFF(Refurbished)
Dell PowerEdge R730 2U Server 8x SFF(Refurbished)
-Intel Xeon E5-2630v3 2.4Ghz, 8C/16T
-16GB DDR4-RDIMM RAM
-600GB SAS 10K 2.5inch
-8 x 2.5 inch Hot Plug
-Dell PERC H710 SATA/SAS Controller
-Broadcom 5720 Quad-Port 4x1GbE Base-T
-Single,Hot-plug Power Supply,750W
-1Yr Part Exchange

Processor(s)

:

Intel Xeon E5-2630v3 2.4Ghz, 20MB, 8C/16T, Turbo
Memory

:

16GB DDR4-RDIMM
Hard Disk

:

600GB SAS 10K 2.5inch
Hard Disk Bay

:

8 x 2.5 inch Hot Plug
Storage Controller

:

Dell PERC H710 SATA/SAS Controller
Network Controller

:

Broadcom 5720 Quad-Port 4x1GbE Base-T
Power Supply

:

Single,Hot-plug Power Supply,750W
Warranty

:

1Yr Part Exchange
Dell's PowerEdge R730 is more than a general purpose 2U rack server. Along with support for Intel's core-heavy E5-2600 v3 v4 Xeons and DDR4 memory, it offers plenty of expansion potential with room for multiple GPU cards.
The R730 supports 8 or 16 SFF drives but if you want the higher drive count, you must order this model at the point of sale as the 8-bay version can't be upgraded. If you need even more there's the R730xd (extreme disk) version which uses a modified chassis with 28 bays.
We also had 64GB of 2,133MHz DDR4 memory which can be pushed to 768GB with 32GB modules. Dell will support 64GB DIMMs so maximum memory will soon be a hefty 1.5TB.
Cooling is handled by a bank of 6 hot-plug fan modules and noise levels are extremely low. Failed fans are easy to remove and releasing levers on each side allows the entire fan assembly to be pulled out.
Base systems have an integral PERC S130 controller providing software managed arrays. All Dell's optional RAID cards support 6Gbps SATA and 12Gbps SAS and start with the entry-level H330. 
It offers stripes, mirrors plus RAID5 and targets SMBs with simple array requirements. Our PERC H730P card plugs into a dedicated slot on the motherboard, extends array support to RAID6 and has 2GB of DDR3 cache with battery backup.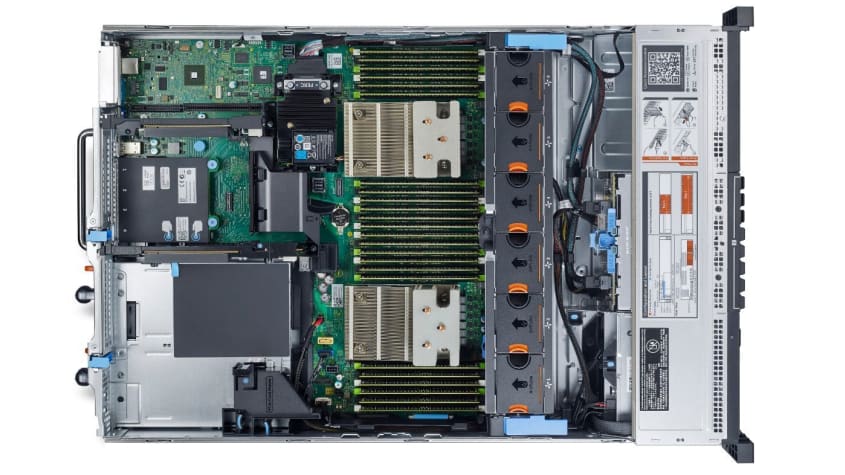 On 8-bay systems, the two x4 SAS ports on the H730P are cabled directly to the drive backplane. For the 16-bay model, the longer backplane has a SAS expander allowing it to handle all 16 drives.
SSD caching is still available but Dell has dropped LSI's embedded CacheCade feature. Costing 311, the new SanDisk DAS Cache option is implemented as an OS driver, managed via an MMC snap-in and supports read and write caching.
The R730 has an iDRAC8 Express controller with dedicated Gigabit port which provides remote access via a slick web interface.
The iDRAC8 matches HP's iLO4 for features making it very easy for us to monitor the server's vital signs. You must upgrade to the Enterprise version to get features such as the virtual console, automatic updates and power capping but the hardware is already present and just needs a license applied.
Dell's OpenManage Server Administrator provides local web-based management while the free OpenManage Essentials (OMA) delivers centralised management for all SNMP and WMI enabled systems. After running a network discovery, we could keep an eye on our lab servers, switches and printers as well as the R730.
Dell's OpenManage Mobile app is focused mainly on Android. We really wish it would update the iOS version as although we used it to access the R730 via OME, it didn't support iDRAC connections for any of our Dell servers.
Big expansion 
Network ports for the R730 are now implemented using daughter cards plugged in to a dedicated slot at the back. Dell offers a fine choice as along with quad Gigabit, it offers dual Gigabit and 10GbE or quad 10GbE.
If that's not enough you have 7 PCI-Express slots to play with in dual-CPU configurations. Using up to three riser cards allows you to fit a mix of full-height and half-height cards or up to four single-side GPU cards. 
Power options are extensive with the review system sporting dual Platinum 750W hot-plug PSUs. Dell also offers 495W and 1100W Platinum PSUs or a 750W Titanium version and all share a common form factor.
The E5-2695 v3 Xeons have a 120W TDP and we measured the system pulling 118W in idle and 381W under heavy load. This is almost identical to the ProLiant DL380 Gen9 we reviewed which measured 90W and 352W. It only had two SAS SSF drives and adding 30W to factor in the extra three drives in the R730 puts them on a level pegging.
Conclusion
The PowerEdge R730 is a versatile 2U rack server with the power to handle a wide variety of business workloads. HP's ProLiant DL380 Gen9 has a higher storage capacity but the R730 easily matches it for build quality, scalability and remote management features.