HPE Aruba Instant On 1960 48G 2XGT 2SFP+ Switch
HPE Aruba Instant On 1960 48G 2XGT 2SFP+ Switch
Power Consumption DescriptionMaximum: 100-127V: 110W

Input Voltage100 - 240 VAC

External I/O Ports48 RJ-45 10/100/1000 ports, 2 SFP+ 10GbE ports, 2 10GBASE-T ports

Switching Capacity176 Gbps

Stacking Capabilities4H height

Throughput131 Mpps

Memory and ProcessorSingle Core ARMv7 Cortex-A9 @800MHz

Management FeaturesAruba Instant On Cloud; Web browser; SNMP Manager

Warranty Standard StatementLimited Lifetime Warranty with 24x7 phone support for 90 days and chat support for the entire warranty duration.

Weight (imperial)9.8 lb

Weight (metric)4.4 kg

Product Dimensions (imperial)13.80 x 17.42 x 1.73 in

Product Dimensions (metric)35.05 x 44.25 x 4.4 cm

Operating Temperature0-40°C, 0-10,000 ft


Ports

:

48 RJ-45 autosensing 10/100/1000 Mbps ports
Power Consumption

:

120W (maximum)
Voltage

:

100 - 240 VAC
Capacity

:

176 Gbps
Throughput

:

131 Mpps
Warranty

:

Limited Lifetime
Frequency

:

50Hz/60Hz
HPE Aruba Instant On 1960 48G 2XGT 2SFP+ Switch 
Aruba Instant On 1960 Switches are advanced, smart-managed, fixed configuration Gigabit stackable switches designed for small and growing businesses that are easy to deploy and affordable. 
These switches are designed to scale as business grows, making adding more employees, devices and applications simple. Aruba Instant On 1960 switches are made to handle today's bandwidth-heavy applications like voice and video conferencing, enabling consistent connectivity to improve user experience and application performance. 
These switches come with flexible management option: local web GUI or Instant On mobile app and cloud-based web portal.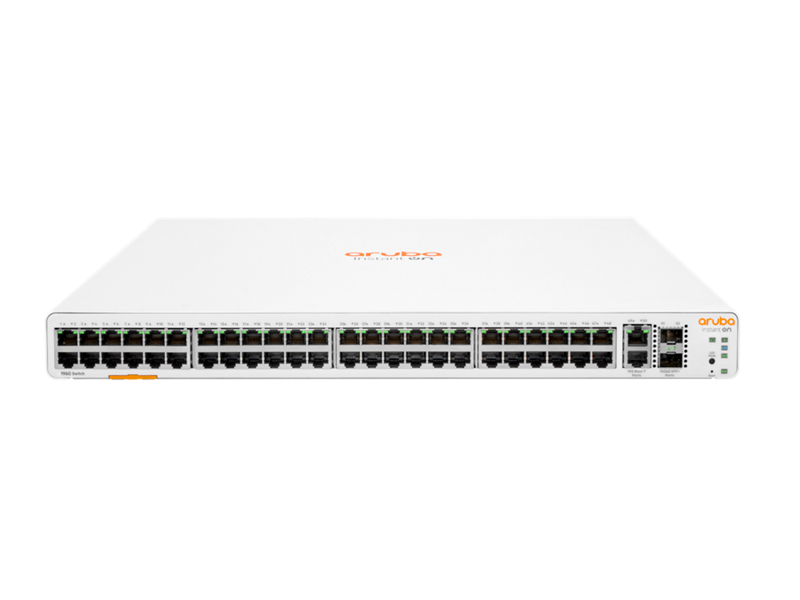 Key Features
High-level Gigabit with 10GbE Networking for Advanced Small Businesses
Each model of the Aruba Instant On 1960 Switch Series includes four 10GbE connections to connect to servers, network storage devices, or to other switches. Two connections of 10GBASE-T deliver 10GbE over copper Category 6a cabling for simple, affordable, high-bandwidth connections to a maximum distance of 100 meters.
Simplify Network Deployment and Management for Small Organizations
The Aruba Instant On 1960 Switch series offers a complete portfolio of choices for increased small business flexibility. It consists of five models including two (2) 24-port and two (2) 48-port models in PoE and non-PoE configurations, and a 12 port 10-Gigabit aggregation switch. The 24-port and 48-port PoE models come with a power budget of 370W and 600W respectively to support the latest PoE-powered IoT devices.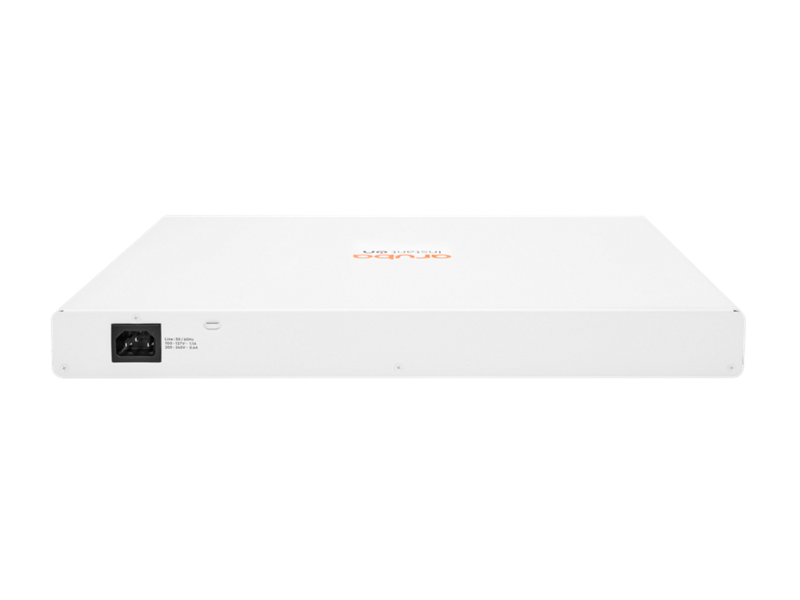 Ease of Use with Cloud-Managed Stacking
The Aruba Instant On mobile app and cloud-based web portal make cloud-managed stacking easy — just follow the recommendations to stack up to four (4) Aruba Instant On 1960 switches and manage as a single entity.
Robust Security to Protect Your Network
The Aruba Instant On 1960 Switch Series lets you use VLANs and Access Control Lists to set bounds on what data can be seen by which users. Leverage 802.1X with a RADIUS server to ensure only known and authorized users can access your network. Supports Automatic denial-of-service (DOS) monitors and protects the network against malicious attacks.