HPE ProLiant DL380 Gen10 Plus Dual PSU CTO Rack Server
HPE ProLiant DL380 Gen10 Plus Dual PSU CTO Rack Server
---
---
HPE DL380 Gen10+ 8SFF NC CTO Svr 1
INT Xeon-G 5317 CPU for HPE 1
HPE 32GB 2Rx4 PC4-3200AA-R Smart Kit 1
HPE DL38X Gen10+ Univ Media Bay Kit 1
HPE DL38X Gen10+ 8SFF x1Tri-Mode U.3 Kit 1
HPE 9.5mm SATA DVD-ROM Optical Drive 1
HPE DL380 Gen10+ x8_x16_x8 Prim FIO Kit 1
HPE 96W Smart Stg Li-ion Batt 145mm Kit 1
Broadcom MR416i-a Cntrl for HPE Gen10+ 1
INT I350 1GbE 4p BASE-T OCP3 Adptr 1
HPE DL38X Gen10+ Max Perf Fan Kit 1
HPE DDR-4 DIMM Blanks Kit 1
HPE DL38X Gen10+ 2U SFF EI Rail Kit 1
HPE DL38X Gen10+ 2U CMA for Rail Kit 1
HPE 800W FS Plat Ht Plg LH Pwr Sply Kit 2
HPE 1.2TB SAS 10K SFF BC MV HDD 3
---
Technical Specs:
| | |
| --- | --- |
| Form Factor | 2U Rack |
| Processor(s) | Intel® Xeon-Gold 5317 (3.0GHz, 12-core, 150W) |
| Memory | 32 GB RDIMM 2R 3200 MT/s (1x 32 GB) |
| Hard Disk | 3 x HPE 1.2TB SAS 10K SFF BC MV HDD |
| Storage Controller | Broadcom MR416i-a Cntrl for HPE Gen10+ |
| Network Controller | INT I350 1GbE 4p BASE-T OCP3 Adptr |
| Power Supply | 2 x HPE 800W FS Plat Ht Plg LH Pwr Sply Kit |
| Warranty | 3-Year Parts, 3-Year Labor, 3-Year Onsite support with next business day response |
| Optical Drive | HPE 9.5mm SATA DVD-ROM Optical Drive |
HPE ProLiant DL380 Gen10 Plus 2U Rack Server

HPE ProLiant DL380 Gen10 Plus server with one Intel® Xeon® Scalable 4309Y processor, 1x 32 GB dual rank memory, Broadcom MegaRAID MR416i-p x16 Lanes 4 GB Cache NVMe/SAS 12G Controller for HPE Gen10 Plus with HPE 96W Smart Storage Lithium-ion Battery with 145 mm Cable, eight small form factor drive bays, four standard fans, one HPE 800W Flex Slot Platinum Hot Plug Low Halogen Power Supply, and a 3/3/3 warranty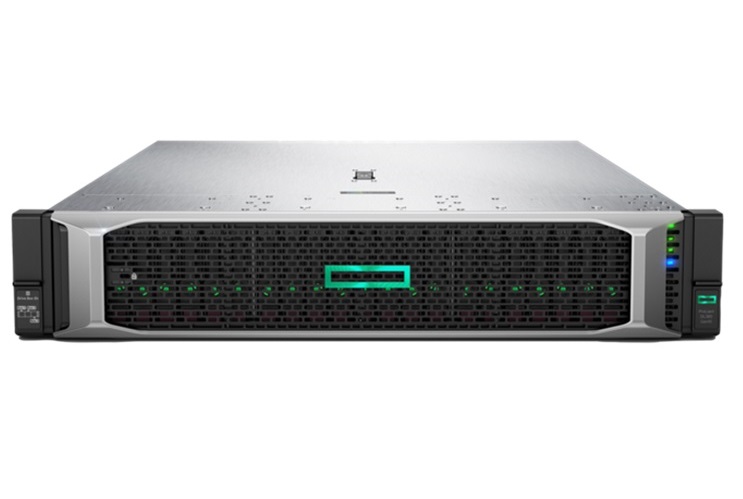 What's New
Key FeaturesSupports 3rd Generation Intel® Xeon® Scalable Processors.
Support for PCIe Gen4, resulting in improved bandwidth and throughput.
Support for industry-standard OCP 3.0 Network Adapters.
Support for Trimodal (NVMe/SAS/SATA) HPE Smart Array controllers.

Built for Some of the Most Demanding Workloads

360-degree Holistic Security

Intelligent Management Automation

Available in an As-a-Service Experience