HPE ProLiant DL160 Gen10 4208 Rack Server
HPE ProLiant DL160 Gen10 4208 Rack Server
---
---
• Intel® Xeon-Silver 4208 (2.1GHz/8C/85W)
• 16 GB RDIMM 1R 2933 MT/s (1x 16 GB)
• 3xHPE 600GB SAS 10K SFF SC DS HDD
• HPE Mobile USB DVD-RW Drive
• Embedded 2-port 1GbE
• 8 SFF HDD Bays
• Embedded 14-port S100i
• 2 PCIe: 1 x16 FH / 1 x8 LP
• 1x 500W Hot Plug; RPS ready
• 3 - Standard
• 1U (Easy Install)
• 3-Year Parts, 3-Year Labor, 3-Year Onsite support with next business day response
---
Technical Specs:
| | |
| --- | --- |
| Form Factor | 1U |
| Processor(s) | Intel® Xeon-Silver 4208 (2.1GHz/8C/85W) |
| Memory | 16 GB RDIMM DDR4 2933 MT/s |
| Hard Disk | 3 x HPE 600GB SAS 10K SFF SC DS HDD |
| Storage Controller | Embedded 14-port S100i |
| Network Controller | Embedded 2-port 1GbE |
| Power Supply | 1x 500W Hot Plug; RPS ready |
| Warranty | 3-Year Parts, 3-Year Labor, 3-Year Onsite NBD response |
HPE ProLiant DL160 Gen10 Server
The secure 2P 1U HPE ProLiant DL160 Gen10 server delivers the right balance of performance, storage, reliability, manageability and efficiency in a dense and compact chassis, to meet the needs of growing businesses of a diverse set of customers – from SMB to service providers running a wide range of workloads at a compelling price point.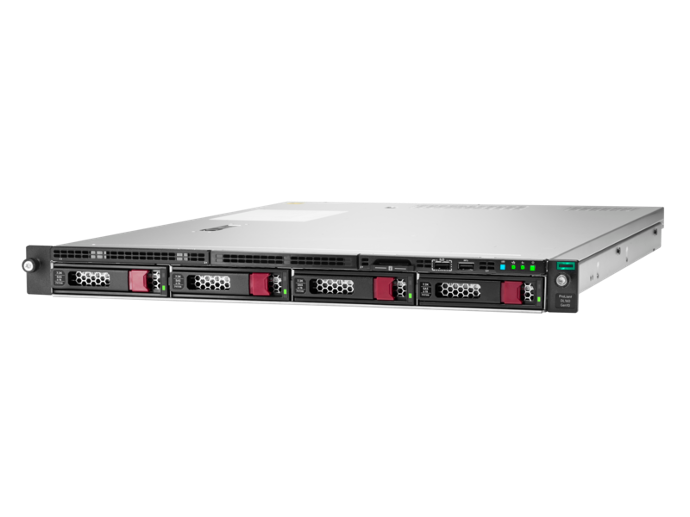 Scalability and Efficiency in a Dense Design
Supports 1st and 2nd generation Intel® Xeon® Scalable processors, up to 26 cores and up to 150W.
Deploy mid-level virtualization, IT/ web infrastructure for SMBs and small enterprises.
Right balanced server to support multiple workloads.
Industry-Leading Serviceability and Simplified Deployment
HPE ProLiant DL160 Gen10 server comes with a complete set of services offered by HPE Pointnext, delivering confidence, reducing risk, and helping customers realize agility and stability.
Services from HPE Pointnext simplify the stages of the IT journey. Advisory and Transformation Services professionals understand customer challenges and design an enhanced solution. Professional Services enables rapid deployment of solutions and Operational Services provides ongoing support.
HPE IT investment solutions help you transform to a digital business with IT economics that align to your business goals.
Agile, Secure Infrastructure Management for Accelerating IT Service Delivery 

HPE iLO 5 enables the world's most secure industry standard servers with HPE silicon root of trust technology to protect your servers from attacks, detect potential intrusions and recover your essential server firmware securely.
Features include iLO Security Dashboard that helps detect and address possible security vulnerabilities and Workload Performance Advisor that provides server tuning recommendations for better server performance.
Millions of lines of firmware code run before the server OS boots and with Runtime Firmware Verification, enabled by HPE iLO Advanced. The server firmware is checked every 24 hours verifying validity and credibility of essential system firmware.
Secure Recovery allows server firmware to roll back to the last known good state or factory settings after detection of compromised code.
Additional security options are available with Trusted Platform Module (TPM) to prevent unauthorized access to server and securely stores artifacts used to authenticate the server platforms while the Intrusion Detection Kit logs and alerts when the server hood is removed.