(Refurbished) Dell PowerEdge R720 Server (2xE52620V2.8GB.2x480GB)
(Refurbished) Dell PowerEdge R720 Server (2xE52620V2.8GB.2x480GB)
Processor: 2 x Intel Xeon Processor E5-2620V2
Memory: 8GB RAM
HDD: 2 x 480GB SSD
RAID Controller: Dell PowerEdge RAID Controller H310
Drive Bays: 8 x 2.5" Hard Drive Bays
Power Supply: 1 x 750W
Warranty: 1 year Parts warranty
Processor(s)

:

2 x Intel Xeon Processor E5-2620V2
Memory

:

8GB RAM
Hard Disk

:

2 x 480GB SSD
Hard Disk Bay

:

8 x 2.5 inch Hot Plug
Storage Controller

:

Dell PowerEdge RAID Controller H310
Power Supply

:

Single Power Supply (support 750W)
Warranty

:

1Yr Part Exchange
Dell PowerEdge R720 Rack Server

Next-generation power and flexibility in a 2S/2U rack server.
Keep pace with the exponential change of the virtual age using the state-of-the-art feature flexibility of the Dell™ PowerEdge™ R720
Gain exceptional virtualization and complex workload performance with Intel® Xeon® E5-2600 processors and up to 24 DIMMs.
Enhance data IOPS performance and simplify maintenance with optional hot-plug, front-access PCIe SSDs.
Take advantage of flexible I/O and networking options with PCIe Gen3-enabled expansion slots and your choice of vendor and embedded NIC technologies.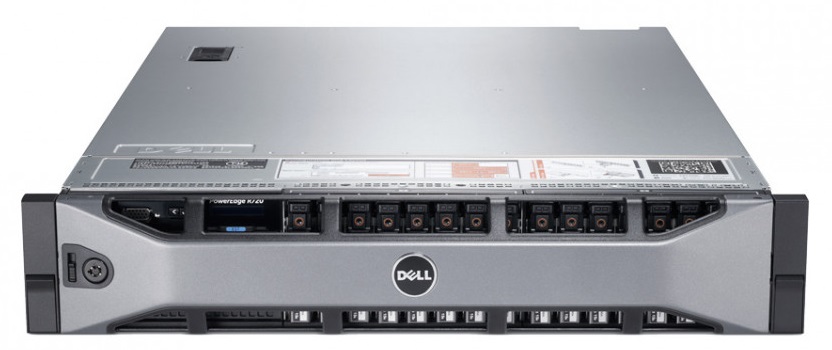 Dell PowerEdge R720 Review
The Dell PowerEdge R720 server is a 12th generation Dell PowerEdge server. It is a rack-mountable 2U (two rack units / 2RU) server that comes with two processor sockets and supports the Intel Xeon E5-2600 series processors (v1 and v2). Dell PowerEdge R720 Servers support up to 768GB of DDR3 (PC3 ECC Registered) memory.

Dell's R720 and R720xd come in various backplane configurations. The regular R720 Dell comes in two 8-bay configurations, one of which supports up to 8x small form factor (SFF; 2.5") hard disk drives (HDDs), and the other supporting up to 8x large form factor (LFF; 3.5") HDDs; it also comes in a 16-bay configuration, which supports up to 16x SFF HDDs. The R720xd comes in a 12-bay configuration, which supports up to 12x LFF HDDs in addition to up to 2x SFF HDDs in the back, and a 24-bay configuration which supports up to 26x SFF HDDs (2x of which are in the back).

A new optional feature designed to take the performance compute server market by storm, is the ability to add four hot-plug front-access 2.5" Express Flash PCIe Solid State Drives (SSDs) that are geared for high throughput and incredibly low latency.

TECHNICAL SPECIFICATIONS
Form Factor: 2U rack-mountable
Processors / CPUs:
Number of sockets: 2x
Processor type: Intel® Xeon® E5-2600 series (Intel® C600 series chipset)
Number of cores per processor: four (quad core), six (6-core), eight (8-core), ten (10-core), or twelve (12-core)
Cache: 2.5MB per core
Storage / Hard Disk Drives (drive bay options):
R720 drive bay options:
Up to 16 x 2.5"
Up to 8 x 2.5" + 8 x 2.5" (with dual RAID controllers)
Up to 8 x 2.5"
Up to 8 x 2.5" + 4 x 2.5" Express Flash2 or up to 8 x 3.5"
Hard drive options:
5" SAS SSD, SATA SSD, SAS (15K, 10K), nearline SAS (7.2K), SATA (7.2K)
5" Express Flash PCIe SSD2 (R720 only)
5" SAS (15K), nearline SAS (7.2K), SATA (7.2K)
Self-encrypting drives (SEDs) available