(Refurbished) Dell PowerEdge R730 Rack Server (2xE52630v3.16GB.120GB)
(Refurbished) Dell PowerEdge R730 Rack Server (2xE52630v3.16GB.120GB)
Processor: 2 x Intel Xeon Processor E5-2630v3
Memory: 16GB RAM
HDD: 120GB SSD
RAID Controller: No Raid Card
Power Supply: 1 x 750W
Warranty: 1 year Parts warranty
Processor(s)

:

2 x Intel Xeon Processor E5-2630v3
Memory

:

16GB
Hard Disk

:

120GB SSD
Storage Controller

:

No
Power Supply

:

1 x 750W
Warranty

:

1 year Parts warranty
PowerEdge R730 Rack Server

Optimize and accelerate your workloads.
Adapt to virtually any workload with a scalable server featuring an optimal mix of memory, storage, processing and GPUs.

Features
Tackle almost any workload
The incredible versatility of the PowerEdge R730 server delivers outstanding functionality in just 2U of rack space. With the combination of powerful processors, large memory, fast storage options and GPU accelerator support, the R730 performs exceptionally well in a number of demanding environments.

---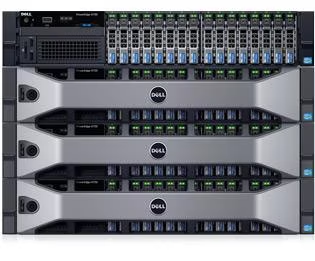 Virtualization and cloud applications
With the Intel® Xeon® processor E5-2600 v4 product family and up to 24 DIMMs of DDR4 RAM, the R730 has the processing cycles and threads and large memory footprint necessary to deliver more, larger and higher-performing virtual machines for data centers and cloud platforms.

Highly scalable storage, with up to 16 x 12Gb SAS drives and the high-performance 12Gb PowerEdge RAID Controller (PERC9), can greatly accelerate data access for your virtualized environment. In addition, the R730 can take advantage of optional SanDisk® DAS Cache application acceleration technology for even faster data access.

---
VDI and HPC
The option for up to two 300W dual-width accelerators/GPUs (choose from Intel® Xeon Phi™, NVIDIA® Tesla® and AMD FirePro™) supports environments that require processing acceleration, including graphics-intensive virtual desktop infrastructure (VDI) implementations, such as CAD/CAM and other research and development applications. Seven PCIe Gen3 expansion slots plus a dedicated slot for a RAID controller further enhance IO flexibility to help make the R730 an ideal compute node for IT as a service (XaaS) providers as well as high-performance computing (HPC) and medical-imaging solutions.

---
Reliable business processing and decision support
The popular-sized 2S/2U R730 can be easily configured as a reliable, general-purpose server for business-critical applications, with scale-out storage, automated management and high-availability features, such as:
Redundant power supply units (PSUs)
Hot-plug and swappable PSUs, HDDs and fans
Dual SD card option for failsafe hypervisors 
---
Simplify and automate your IT management tasks
Manage your data center servers the way you want: individually, collectively, in-person, remotely or with your smartphone — it's your choice. Consistent administration and 3rd-party integration ensure seamless management of PowerEdge servers.
---
Accelerate IT service deployment
Streamline infrastructure provisioning, speed up workload deployment and simplify IT service delivery through the unified console and highly intuitive user interface of Active System Manager. Enhanced for the latest generation of PowerEdge servers, it features:
Template-based server and IO configurations, identity management and service migration capabilities
Fast workload deployment with an expanding out-of-box template library
Cloud enablement with support for infrastructure as a service (IaaS) and platform as a service (PaaS), including Red Hat and VMware solutions

Stocking the future-ready data center
With high-performance processing, large memory capacity and innovative local storage options offering greater scalability throughout the portfolio, the latest generation of PowerEdge servers meets your needs today, with the hardware, headroom and simplified management to adapt as your workloads demand.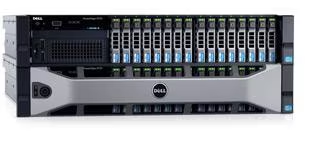 The HP ProOne 440 All-in-One provides users with the commercial-grade performance, security, and scalability in a space-saving design. This PC is powered by the latest Intel® processor[2] and protected with always-on security you can trust.
Enhanced meeting experience
This AiO's enhanced intelligent features help reduce unwanted background noise and adapt to environmental lighting.
Tools to amplify productivity
Accomplish your daily activities with the essential features that help you fulfill the needs of your business.
Protected by HP Wolf Security
HP Wolf Pro Security Edition PCs interlace HP Sure Click Pro with HP Sure Sense Pro providing more in-depth coverage than the standard versions through a 1-year or 3-year user license with HP Support.[5] This creates a powerful, single solution that doesn't require an IT-managed PC environment.