(Refurbished) Dell PowerEdge R730xd Rack Server (E5-2630v3.8GB.480GB)
(Refurbished) Dell PowerEdge R730xd Rack Server (E5-2630v3.8GB.480GB)
Processor: Intel Xeon Processor E5-2630v3
Memory: 8GB RAM
HDD: 1 x 480GB SSD
RAID Controller: Dell PowerEdge RAID Controller H330
Drive Bays: TBC
Power Supply: 1 x 750W
Warranty: 1 year Parts warranty
Processor(s)

:

Intel Xeon Processor E5-2630v3
Memory

:

8GB RAM
Hard Disk

:

1 x 480GB SSD
Storage Controller

:

Dell PowerEdge RAID Controller H330
Power Supply

:

1 x 750W
Warranty

:

1 year Parts warranty
PowerEdge R730xd Rack Server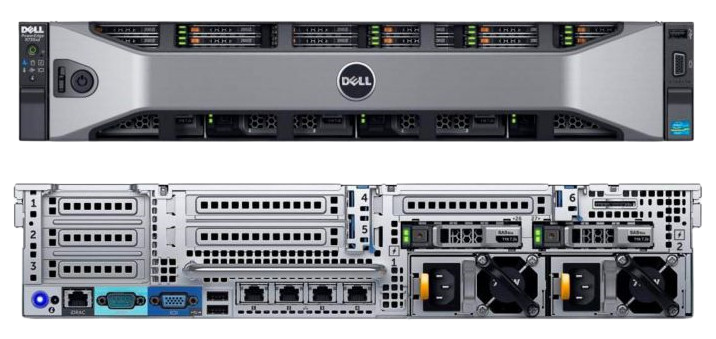 Features

Accelerate your workloads
Maximize server-based storage flexibility and performance with the remarkable PowerEdge R730xd, part of the new 13th generation of PowerEdge servers. The R730xd offers an optimal balance of storage utilization, performance and cost with an optional in-server hybrid storage configuration that can support tiering and capacity for up to 28 drives in a 2S/2U system, including up to 18 x 1.8" SATA SSDs.

Flash storage anywhere, or everywhere: New flash-capable configurations mean fast data access for faster applications performance. Configurations include 1.8" SATA SSDs, 12Gb SAS SSDs and ultra-high-performance NVMe Express Flash PCIe drives.

Flexibly leverage SSDs to maximize application performance. With flexible zoning and dual PERC cards, you can now flexibly leverage SSDs to maximize performance in 4 SSDs + 20 HDDs, 8 SSDs + 16 HDDs or 12 SSDs + 12 HDDs.
Enhance database performance by using flash drives to cache "hot" data, while simultaneously having up to 48TB* of server-based storage with NL-SAS/SATA HDDs.
Increase concurrent usage and system response for OLTP applications by combining NVMe drives and Dell caching solutions.
Provide efficient, high-performance scale-out storage for IT-as-a-service (XaaS) providers, Big Data (Hadoop) users and co-location hosting by combining traditional hard drives and solid-state flash drives to ensure data is where it's needed, when it's needed.
---
Unified communications and collaboration
The PowerEdge R730xd with improved networking throughput and the latest Intel® Xeon® processor E5-2600 v4 product family delivers the performance necessary for your SharePoint, Lync, Exchange and consolidated collaboration environments.
Enable more, bigger and lower-cost mailboxes with 33 percent greater storage drive capacity than previous generations.
Improve response times with up to 15 percent greater memory bandwidth than earlier generations and help increase IO performance with the customizable throughput of Dell Select Network Adapters.
Enhance overall Exchange performance with 12Gb PERC9 RAID controllers, featuring double the cache and throughput over previous generations.
Optimize Lync performance and responsiveness in virtual environments by directly mapping more VMs to the increased number of physical processor cores.
---
The latest Intel® Xeon® processor E5-2600 v4 product family, with up to 22 cores per socket, provides the cycles and threads necessary to support today's diverse workloads in virtual environments, including virtualized local storage. To further enhance these deployments, the R730xd features:

DDR4 RAM that supports more, larger and higher-performance virtual machines per node, drawing up to 30 percent less power than previous-generation DDR3 RAM

Multi-mode RAID controllers with twice the storage bandwidth of previous generations

Compatibility with software defined storage (SDS) solutions, such as Microsoft Storage Spaces, VMware® Virtual SAN™ (vSAN) and OpenStack Ceph
Storage virtualization



---
Simplify and automate your IT management tasks
Manage your data center servers the way you want: individually, collectively, in-person, remotely or with your smartphone — it's your choice. Consistent administration and 3rd-party integration ensure seamless management of PowerEdge servers.
---

Simplify administration of PowerEdge servers with the embedded intelligence of the integrated Dell Remote Access Controller (iDRAC) with Lifecycle Controller and with the robust, timesaving management features of the entire Dell OpenManage portfolio.

Lifecycle Controller provides deployment, update and support automation on demand to maximize data center efficiency and can automatically inventory, monitor and update any new Dell PowerEdge system added to the data center. It includes managed and persistent onboard storage that, when combined with its systems management capabilities, eliminates the need for traditional media-based system management tools and utilities.

Zero-touch automated deployment discovers and auto-configures Dell servers by using configuration files stored in designated locations on an internal network, which can reduce setup time and manual entry errors. Administrators can simply rack, cable and walk away.

Automated server updates synchronize servers to firmware baselines stored at designated locations on an internal network to simplify firmware updates.

The Tech Support Report, automatically maintained by iDRAC, is a continuously updated health and status report that monitors over 5,000 key system parameters and can help cut time needed to identify and resolve server issues.

The HP ProOne 440 All-in-One provides users with the commercial-grade performance, security, and scalability in a space-saving design. This PC is powered by the latest Intel® processor[2] and protected with always-on security you can trust.
Enhanced meeting experience
This AiO's enhanced intelligent features help reduce unwanted background noise and adapt to environmental lighting.
Tools to amplify productivity
Accomplish your daily activities with the essential features that help you fulfill the needs of your business.
Protected by HP Wolf Security
HP Wolf Pro Security Edition PCs interlace HP Sure Click Pro with HP Sure Sense Pro providing more in-depth coverage than the standard versions through a 1-year or 3-year user license with HP Support.[5] This creates a powerful, single solution that doesn't require an IT-managed PC environment.