(Refurbished) Dell PowerEdge R740 Rack Server (XB3104.16GB.512GB)
(Refurbished) Dell PowerEdge R740 Rack Server (XB3104.16GB.512GB)
Model: Dell PowerEdge R740 Rack Server
Processor: Intel Xeon Bronze 3104 Processor
Memory: 16GB RAM
HDD: 1 x 512GB SSD
RAID Controller: Dell PowerEdge RAID Controller H330
Power Supply: 1 x 750W
Warranty: 1 year Parts warranty
Processor(s)

:

Intel Xeon Bronze 3104 1.7GHz, 6C/6 T, 8.25M Cache, (85W)
Memory

:

16GB
Hard Disk

:

1 x 512GB SSD
Storage Controller

:

PERC H330 RAID Controller, Minicard
Power Supply

:

1 x 750W
Warranty

:

1 year Parts warranty
Dell EMC PowerEdge R740 2U Rack Server
The Dell EMC PowerEdge R740 helped to maximize your application performance with the optimal mix of accelerator cards, storage and compute power in a 2U, 2-socket platform optimized for VDI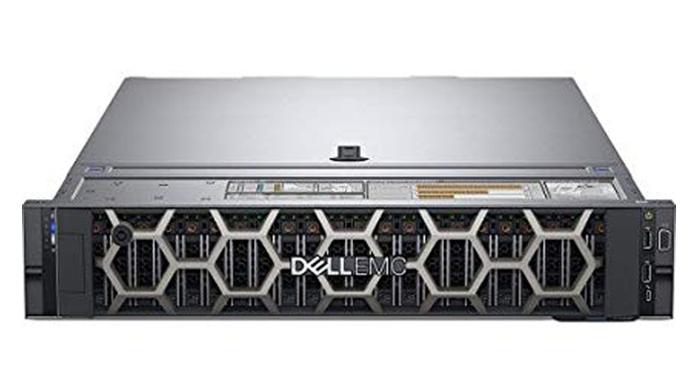 The R740 is a general-purpose workhorse optimized for workload acceleration. With its versatility, the R740 can help you transform your data center for VDI, artificial intelligence and software-defined storage (SDS).
Simplify and accelerate VMware vSAN™ deployments with validated, pre-bundled and tailored Ready Nodes.
Drive demanding workloads with 2nd Generation Intel® Xeon® Scalable processors and Intel® Optane™ DC Persistent Memory.
Scale your VDI deployments with 3 double-width GPUs, supporting up to 50% more users when compared to R730.*
Free up storage space using internal M.2 SSDs optimized for boot.
General-purpose workhorse optimized for workload acceleration
The PowerEdge R740 maximize your application performance which brings you the perfect balance of accelerator cards, storage and compute resources in a 2U, 2-socket platform. With a wide range of GPU and FPGA options, the R740 has the versatility to adapt to virtually any application and provides the optimum platform for VDI deployments. The R740 offers up to 16 x 2.5" or 8 x 3.5" drives and iDRAC9, so you can scale to meet demands and simplify the entire IT lifecycle.
 Ideal workloads:

Cloud applications/Web tech
XaaS
HPC
Virtualization
In addition, Dell EMC automation and intelligent management mean you spend less time on routine maintenance so you can focus on bigger priorities

Help maximize uptime and reduce the IT effort to resolve issues by up to 72%* with ProSupport Plus and SupportAssist.
Leverage existing management consoles with easy integrations for VMware® vSphere®, Microsoft® System Center and Nagios®.
Help improve productivity with agent-free Dell EMC iDRAC9 for automated, efficient management.
Simplify deployment with OpenManage next-generation console and server profiles to fully configure and prep servers in rapid, scalable fashion.
Refurbished Dell PowerEdge R740 Rack Server (Bronze 3104, 16GB RAM, 500GB) - The Best Value for Your Business
Are you looking for an affordable yet high-performance server for your business? Look no further than the Refurbished Dell PowerEdge R740 Rack Server with Bronze 3104, 16GB RAM, and 500GB storage capacity, available now at Server2u.com Malaysia.
Why Choose a Refurbished Server?
Refurbished servers are a great option for businesses that want to save money without sacrificing quality. Refurbished servers have been previously used but have undergone a rigorous refurbishing process to ensure that they are in excellent working condition. They are often sold at a fraction of the cost of a new server, making them an ideal choice for small and medium-sized businesses.
Why the Dell PowerEdge R740 Rack Server?
The Dell PowerEdge R740 Rack Server is a powerful and reliable server that is perfect for businesses of all sizes. With its Bronze 3104 processor and 16GB RAM, it can handle even the most demanding applications and workloads. Its 500GB storage capacity provides ample space for your data and files.
The PowerEdge R740 is also designed for easy scalability, allowing you to add more storage, memory, or processors as your business grows. It is also compatible with a wide range of operating systems and virtualization software, giving you the flexibility to choose the software that best meets your business needs.
Why Buy from Server2u.com Malaysia?
Server2u.com Malaysia is a trusted supplier of refurbished servers, data center equipment, and other IT solutions. We offer a wide range of servers from top brands like Dell, HP, and Lenovo, all of which have been thoroughly tested and certified to ensure that they meet our high standards for quality and performance.
When you buy from Server2u.com Malaysia, you can rest assured that you are getting the best value for your money. We offer competitive prices and free shipping within Malaysia, as well as a  guarantee on all of our products. Our knowledgeable and experienced team is also available to provide technical support and advice to help you make the most of your server.
Order Your Refurbished Dell PowerEdge R740 Rack Server Today
If you're in the market for a high-performance server that won't break the bank, the Refurbished Dell PowerEdge R740 Rack Server with Bronze 3104, 16GB RAM, and 500GB storage capacity is the perfect choice. Order yours today from Server2u.com Malaysia and experience the best value for your business.