(Refurbished) Dell PowerEdge R740 Rack Server (2xXG6133.64GB.3x1TB)
(Refurbished) Dell PowerEdge R740 Rack Server (2xXG6133.64GB.3x1TB)
Model: Dell PowerEdge R740 Rack Server
Processor: 2 x Intel Xeon Gold 6133 Processor
Memory: 64GB RAM
HDD: 3 x 1TB SSD
RAID Controller: Dell PowerEdge RAID Controller H730
Power Supply: 1 x 750W
Warranty: 1 year Parts warranty
Processor(s)

:

2 x Intel Xeon Gold 6133 Processor
Memory

:

64GB
Hard Disk

:

3 x 1TB SSD
Storage Controller

:

Dell PowerEdge RAID Controller H730
Power Supply

:

1 x 750W
Warranty

:

1 year Parts warranty
Dell EMC PowerEdge R740 2U Rack Server
The Dell EMC PowerEdge R740 helped to maximize your application performance with the optimal mix of accelerator cards, storage and compute power in a 2U, 2-socket platform optimized for VDI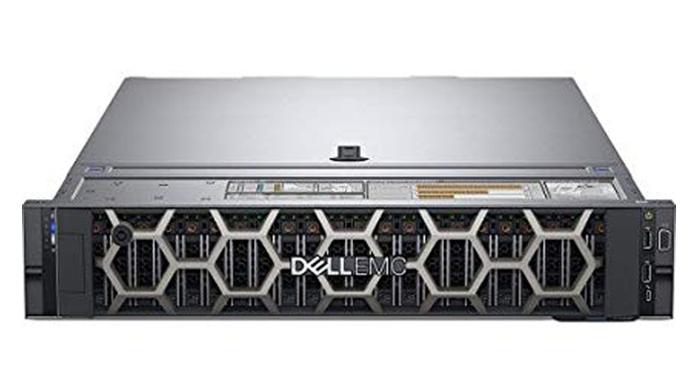 The R740 is a general-purpose workhorse optimized for workload acceleration. With its versatility, the R740 can help you transform your data center for VDI, artificial intelligence and software-defined storage (SDS).
Simplify and accelerate VMware vSAN™ deployments with validated, pre-bundled and tailored Ready Nodes.
Drive demanding workloads with 2nd Generation Intel® Xeon® Scalable processors and Intel® Optane™ DC Persistent Memory.
Scale your VDI deployments with 3 double-width GPUs, supporting up to 50% more users when compared to R730.*
Free up storage space using internal M.2 SSDs optimized for boot.
General-purpose workhorse optimized for workload acceleration
The PowerEdge R740 maximize your application performance which brings you the perfect balance of accelerator cards, storage and compute resources in a 2U, 2-socket platform. With a wide range of GPU and FPGA options, the R740 has the versatility to adapt to virtually any application and provides the optimum platform for VDI deployments. The R740 offers up to 16 x 2.5" or 8 x 3.5" drives and iDRAC9, so you can scale to meet demands and simplify the entire IT lifecycle.
 Ideal workloads:

Cloud applications/Web tech
XaaS
HPC
Virtualization
In addition, Dell EMC automation and intelligent management mean you spend less time on routine maintenance so you can focus on bigger priorities

Help maximize uptime and reduce the IT effort to resolve issues by up to 72%* with ProSupport Plus and SupportAssist.
Leverage existing management consoles with easy integrations for VMware® vSphere®, Microsoft® System Center and Nagios®.
Help improve productivity with agent-free Dell EMC iDRAC9 for automated, efficient management.
Simplify deployment with OpenManage next-generation console and server profiles to fully configure and prep servers in rapid, scalable fashion.
The HP ProOne 440 All-in-One provides users with the commercial-grade performance, security, and scalability in a space-saving design. This PC is powered by the latest Intel® processor[2] and protected with always-on security you can trust.
Enhanced meeting experience
This AiO's enhanced intelligent features help reduce unwanted background noise and adapt to environmental lighting.
Tools to amplify productivity
Accomplish your daily activities with the essential features that help you fulfill the needs of your business.
Protected by HP Wolf Security
HP Wolf Pro Security Edition PCs interlace HP Sure Click Pro with HP Sure Sense Pro providing more in-depth coverage than the standard versions through a 1-year or 3-year user license with HP Support.[5] This creates a powerful, single solution that doesn't require an IT-managed PC environment.