(Refurbished) Dell PowerEdge R810 Rack Server (4xE74860.96GB.5x1TB)
(Refurbished) Dell PowerEdge R810 Rack Server (4xE74860.96GB.5x1TB)
Model: Dell PowerEdge R810 Rack Server
Processor: 4 x Intel Xeon Processor E7-4860
Memory: 96GB RAM
HDD: 5 x 1TB SSD
RAID Controller: Dell PowerEdge RAID Controller H700
Power Supply: 1 x 1100W
Warranty: 1 year Parts warranty
Processor(s)

:

4 x Intel Xeon Processor E7-4860
Memory

:

96GB
Hard Disk

:

5 x 1TB SSD
Storage Controller

:

Dell PowerEdge RAID Controller H700
Power Supply

:

1 x 1100W
Warranty

:

1 year Parts warranty
Dell PowerEdge R810 Rack Server

Ideal for virtualization, workload consolidation and midsized databases, the Dell™ PowerEdge™ R810 is a high-density, 4-socket or 2-socket, 2U rack server that combines advanced management capabilities with leading price-per-performance features.
More processing power and more memory capacity to maximize workload
Integrated systems management, Lifecycle Controller and embedded diagnostics to help maximize uptime
FlexMem Bridge technology — more memory per processor to solve growing memory demand needs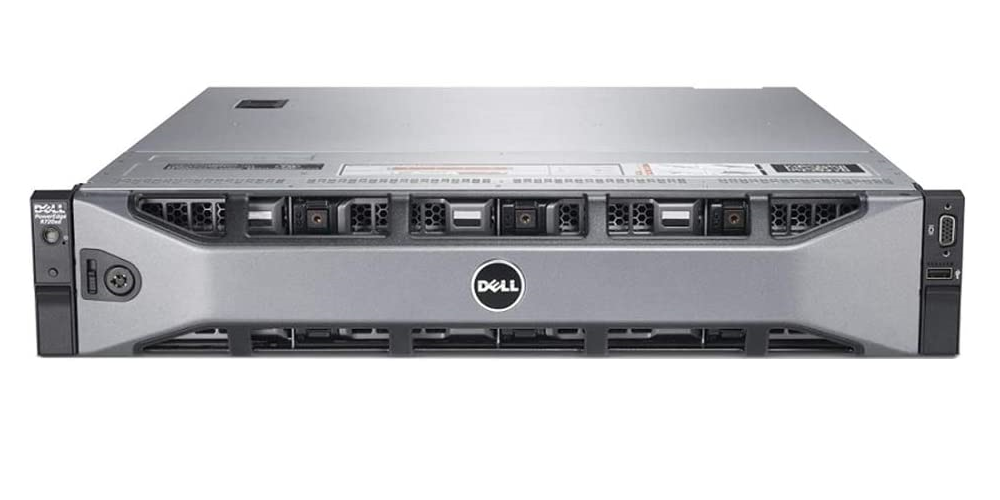 Customer-Inspired Design

Inspired by our customers, the PowerEdge R810 is built from Intel Advanced RAS (Reliability,  Availability, Serviceability) features and dual internal SD modules to embedded diagnostics and industrial-quality materials. Dual internal SD modules provide failover capability for the embedded hypervisor; this feature was designed based on customer reliability feedback. Dell  listened and delivered.
FlexMem Bridge technology scales memory capacity allowing two processors from the Intel Xeon E7-4800 and E7-8800 product family or the Intel Xeon processor 6500 and 7500 series access to all 32 DIMM slots, delivering more memory resources for outstanding application performance. This Dell innovation allows customers to scale memory and take full advantage of the resources that matter most.
Every fully configured Dell server is tested (and re-tested) before it leaves the factory. Our one-touch process is designed to ensure one person is responsible for the entire server build, resulting in greater quality control.
Energy Efficient

The PowerEdge R810 follows the eleventh-generation PowerEdge behavioral specifications with the same system design commonality and usability true to the entire portfolio. All eleventh-generation PowerEdge servers are designed to make the user experience easier while saving time and money.
Energy-efficient system design built with Energy Smart technologies includes power management features enabling power capping, power inventory, and power budgeting within your specific environment. Logical component layout of the internal components aids with airflow direction, helping to keep the server cool.
Easy to Manage

Dell system management solutions focus on simplicity, efficiency, cost containment and reduction, and an adherence to open standards. Our solutions are complemented by, connected to, and integrated with 3rd-party offerings, thereby delivering comprehensive solutions across the complete solutions stack.
The Lifecycle Controller is a chip that is integrated on the server. It helps to simplify administrator tasks by performing a complete set of provisioning functions such as system deployment, system updates, hardware configuration, and diagnostics in a pre-OS environment—all from a single, intuitive interface called the Unified Server Configurator (USC).
The HP ProOne 440 All-in-One provides users with the commercial-grade performance, security, and scalability in a space-saving design. This PC is powered by the latest Intel® processor[2] and protected with always-on security you can trust.
Enhanced meeting experience
This AiO's enhanced intelligent features help reduce unwanted background noise and adapt to environmental lighting.
Tools to amplify productivity
Accomplish your daily activities with the essential features that help you fulfill the needs of your business.
Protected by HP Wolf Security
HP Wolf Pro Security Edition PCs interlace HP Sure Click Pro with HP Sure Sense Pro providing more in-depth coverage than the standard versions through a 1-year or 3-year user license with HP Support.[5] This creates a powerful, single solution that doesn't require an IT-managed PC environment.