(Refurbished) Dell PowerEdge R920 Rack Server (4xE74890V2.512GB.480GB)
(Refurbished) Dell PowerEdge R920 Rack Server (4xE74890V2.512GB.480GB)
Model: Dell PowerEdge R920 Rack Server
Processor: 4 x Intel Xeon Processor E7-4890V2
Memory: 512GB RAM
HDD: 1 x 480GB SSD
RAID Controller: Dell PowerEdge RAID Controller H730
Power Supply: 2 x 1100W
Warranty: 1 year Parts warranty
Processor(s)

:

4 x Intel Xeon Processor E7-4890V2
Memory

:

512GB
Hard Disk

:

1 x 480B SSD
Storage Controller

:

Dell PowerEdge RAID Controller H730
Power Supply

:

2 x 1100W
Warranty

:

1 year Parts warranty
Dell PowerEdge R920 Rack Server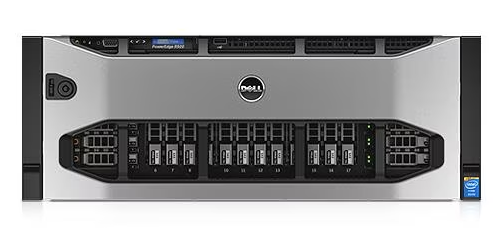 Built for speed.
Drive large databases, ERP, HPC and other demanding workloads with 4-socket performance, scalable memory and powerful IO.

Unleash scalable performance
Perform more transactions in less time with the massive memory footprint and tremendous caching capacity of the PowerEdge R920, the most powerful rack server in the PowerEdge portfolio. It introduces to the PowerEdge lineup the next generation of Intel® Xeon® processor E7 v2 product family, which combines up to 15 cores per processor with a large memory capacity, high-performing threads and hardware-based advanced reliability features designed to:
Process and analyze large amounts of data in real time
Deliver real-time business intelligence
Drive faster decision making
Increase productivity and profitability
The PowerEdge R920 enables you to boost business-application effectiveness, deliver exceptional database performance and efficiently consolidate workloads with large-scale virtualization. The 4-socket, 4U server, with built-in expandability, allows you to grow easily and quickly with:
96 DIMM slots (up to 6TB1 RAM) for in-memory databases and large-scale virtualization
Up to 10 PCIe Gen3/Gen2 slots to create a highly flexible infrastructure and permit large enterprise SAN environments
Up to 24 internal drives (4- to 24-drive options) with fast 12Gbps SAS HDDs and up to eight Express Flash SSDs for tiered, high-speed data access
As a powerful server for large enterprises, the R920 supports centralized business applications, such as customer relationship management (CRM) and enterprise resource planning (ERP) with critical databases, and can even provide consolidation of these performance-sensitive applications using large-scale virtualization. It is ideal for mission-critical environments where performance, expandability and reliability are indispensable.
Expand IO capabilities
Gain up to 100 percent more IOPS performance than previous-generation PowerEdge servers with the H730P PowerEdge RAID Controller (PERC), a high-performance RAID controller for direct-attached storage (DAS). Taking full advantage of 12Gbps SAS throughput, this PERC enables workload-optimized performance, with RAID6 and RAID60 as standard features. Agentless management through iDRAC7 enables PERC configuration, deployment, updating and monitoring through a simple GUI or command line interface.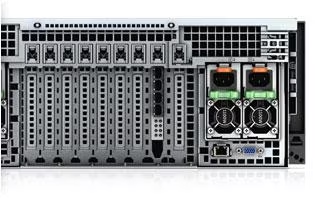 The R920 optionally supports a dual-PERC configuration, which enables more flexible PERC usage, for example, dedicating the highest IO requirements to one PERC that leverages higher performance SSDs while the other PERC can control lower-priority workloads using the HDD storage.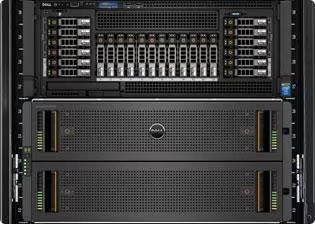 Operate confidently
Keep your data center running in top condition with the enhanced reliability features of the PowerEdge R920, including:
Intel Run Sure technology that helps improve system diagnostic and predictive failure analysis to reduce service costs and increase system uptime
Dell Fault Resilient Memory that provides a protected hypervisor memory zone for VMware environments and Dual SD redundant hypervisor for highly available failsafe virtualization
Redundant hot-plug power supply units and fans

Managing R920 servers is simplified with intelligent, hardware-driven management that features:
Extensive power management
Integration into virtual consoles
Automation for parts replacement

Upgrade Your Data Center with the Dell PowerEdge R920 Rack Server at Server2U
Experience Unbeatable Performance, Reliability, and Pricing
In today's fast-paced business environment, having a robust and scalable IT infrastructure is essential. The Dell PowerEdge R920 Rack Server, available at unbeatable prices from Server2U, provides top-notch performance and reliability to keep your data center running smoothly. In this article, we will discuss the key features of this powerful server solution and explore how Server2U's offers make it the best choice for your business.
1. High Performance Servers: The Power of Dell PowerEdge R920
The Dell PowerEdge R920 is designed to handle demanding workloads, offering exceptional processing capabilities, memory capacity, and storage options. With its scalable architecture and enterprise-class components, this 4U rack server guarantees high performance and responsiveness for your data processing needs.
2. Data Security and Server Management
Data security is crucial for any organization, and the Dell PowerEdge R920 Rack Server comes equipped with advanced features to protect your valuable information. In addition, the server offers integrated management tools for seamless server virtualization, monitoring, and maintenance, ensuring a secure and efficient IT environment.
3. Server2U: Your Trusted Source for Affordable and Reliable Servers
At Server2U, we understand the importance of having a reliable and cost-effective server solution. That's why we offer Dell PowerEdge R920 Rack Servers at unbeatable prices, alongside attractive discounts and deals. Our experienced support team is always on hand to assist you with server configuration, upgrades, and troubleshooting, ensuring your investment is well protected.
4. Server2U Offers: Save Big on Your Dell PowerEdge R920 Purchase
Don't miss out on the opportunity to upgrade your data center with the Dell PowerEdge R920 Rack Server at a discounted price. Server2U's ongoing promotions provide the best value for your money, allowing you to enjoy high-quality server hardware without breaking the bank.
Conclusion:
In summary, the Dell PowerEdge R920 Rack Server is an excellent choice for businesses looking to upgrade their data center infrastructure. With its outstanding performance, reliability, and security features, this server is a worthy addition to any IT environment. By purchasing from Server2U, you can take advantage of unbeatable prices, ongoing discounts, and exceptional support. Don't hesitate – order your Dell PowerEdge R920 Rack Server today and experience the difference for yourself.