Dell PowerEdge R930 4U Rack Server (4xE7-8880v4.1600GB.8x1TB)
Dell PowerEdge R930 4U Rack Server (4xE7-8880v4.1600GB.8x1TB)
Dell PowerEdge R930 Rack Server
4 x Intel Xeon Processor E7-8880 v4
1600GB (32GB x 50)
8 x 1TB SSD
RAID Controller H730p
2 x 750W PSU
24 x 2.5" Hard Drive Bays
1 year Parts warranty
Processor(s)

:

4 x Intel Xeon Processor E7-8880 v4
Chassis

:

24 x 2.5" Hard Drive Bays
Memory

:

1600GB (32GB x 50)
Hard Disk

:

8 x 1TB SSD
Storage Controller

:

Dell PowerEdge RAID Controller H730P
Power Supply

:

2 x 750W PSU
Warranty

:

1 year Parts warranty
Dell EMC PowerEdge R930 4U Rack Server
Accelerate enterprise applications with Dell's most powerful server featuring highly scalable processing, memory and internal storage.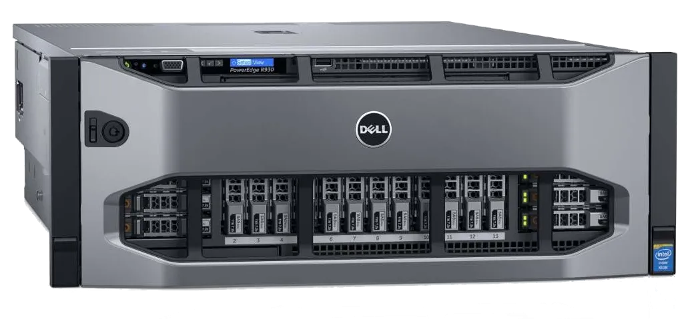 Features and Design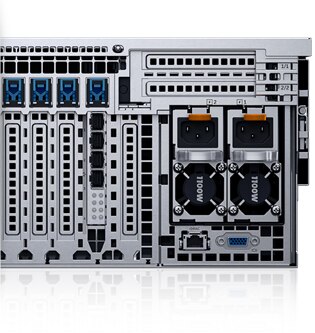 Built for scalability and speed 

Maximize the performance of your most demanding enterprise applications, including CRM, ERP, OLTP and in-memory databases. The PowerEdge R930 flexibly scales to optimize transactions and operations and can significantly reduce latency. Leveraging the latest Intel® Xeon® processor E7 v4 product family (up to 24 cores per processor), the 4-socket R930 can scale to meet virtually any challenge.

Utilize all 96 processing cores to access up to 6TB DDR4 memory on 96 DIMMs.

Optimize performance across compute, memory and I/O with up to eight PCIe SSDs.

Protect mission-critical and data-intensive applications with Intel E7 RAS features.
Simplicity through automation 

Efficiently manage Dell servers in physical, virtual, local and remote environments with PowerEdge embedded server intelligence --- integrated Dell Remote Access Controller (iDRAC8) with Lifecycle Controller and OpenManage Essentials. OpenManage automates the most frequently performed server management tasks agent-free – including deployment, updates, monitoring and maintenance – regardless of the installed OS or hypervisor.
Reduce setup time by up to 99 percent with zero touch automated deployment.

Cut up to 92 percent of time spent updating servers according to your policies.

Leverage the same OpenManage Integration benefits with your existing VMware®, Microsoft or BMC Software consoles.
Accelerate applications 

Reduce licensing costs using the extensive internal resources of a single R930 to accelerate applications and optimize compute processing. With 96 DIMM slots and 24 hard drives, it can easily adapt to the demands of any workload.
Cost-effectively scale memory using lower cost, smaller DIMMs.

Architect internal storage with SSDs and SAS drives to optimize for specific applications.

Double I/O bandwidth utilizing dual PCI Gen 3 RAID cards.
Adapt to virtually any enterprise workload
Specifically designed for the enterprise, the R930 has all the power and capacity required to meet your business needs.
Accelerate your large applications

 (ERP, CRM, business intelligence) with the capacity to quickly respond to business-growth demands.

Consolidate multiple corporate-wide applications 

to a single server.

Enable faster access to critical business-application data

 and shrink customer response times with in-memory database capability.

Efficiently support SAN environments

 with Dell Fluid Cache for SAN in combination with up to eight Express Flash SSDs.

Migrate from an outdated RISC environment

 to a more agile future-ready data center.
High Performance Dell PowerEdge R930 4U Rack Server: The Ultimate Solution for Demanding Workloads
High Performance Dell PowerEdge R930 4U Rack Server: The Ultimate Solution for Demanding Workloads
In today's fast-paced digital landscape, businesses are constantly searching for new ways to improve their performance, enhance their productivity, and stay ahead of the competition. When it comes to computing power, the Dell PowerEdge R930 4U Rack Server is the ultimate solution for demanding workloads. With its powerful 4xE7-8880v4 processors, massive 1600GB RAM, and 8x1TB storage capacity, this high-performance server is capable of handling even the most complex computing tasks with ease.
Performance That Never Slows Down The Dell PowerEdge R930 4U Rack Server is designed to deliver lightning-fast performance that never slows down. With four Intel Xeon E7-8880v4 processors, each with 22 cores and 44 threads, this server can handle multiple tasks simultaneously without breaking a sweat. The massive 1600GB RAM ensures that the server has the resources it needs to keep up with the most demanding workloads, while the 8x1TB storage capacity provides ample space for storing data and running applications.
Powerful Configuration and Features The Dell PowerEdge R930 4U Rack Server is packed with powerful features and a configuration that can be customized to suit your specific needs. With support for up to 6TB of memory, this server is capable of handling even the most memory-intensive workloads. The 8x1TB hot-plug hard drives provide plenty of storage space for large amounts of data, while the optional dual RAID controllers ensure that your data remains safe and accessible at all times.
Benefits and Advantages The Dell PowerEdge R930 4U Rack Server offers several benefits and advantages that make it an ideal choice for businesses of all sizes. With its massive computing power, this server can help businesses achieve their goals more quickly and efficiently. Its high-speed connectivity options, including four 10GbE ports, enable fast data transfer rates and reduced latency. Additionally, the server's high-availability features, such as redundant power supplies and fans, ensure that it remains operational even in the event of a component failure.
Server2u Malaysia: Your Trusted Partner for Dell PowerEdge R930 If you're looking to buy a Dell PowerEdge R930 4U Rack Server, Server2u Malaysia is your trusted partner. With a range of customization options and expert support, Server2u Malaysia can help you configure your Dell PowerEdge R930 to meet your specific needs. Our team of experts can assist you in selecting the right components, configuring the server, and deploying it in your environment. Additionally, we offer competitive pricing and fast shipping, so you can get your Dell PowerEdge R930 up and running as quickly as possible.
Conclusion The Dell PowerEdge R930 4U Rack Server is the ultimate solution for demanding workloads. With its powerful configuration, lightning-fast performance, and high-availability features, this server is designed to help businesses achieve their goals more quickly and efficiently. And with Server2u Malaysia as your trusted partner, you can rest assured that you're getting the best possible service and support. So why wait? Contact us today to learn more about the Dell PowerEdge R930 and how it can help your business succeed.