Dell EMC PowerEdge T150 Tower Server (E-2314.8GB.1TB) - No Controller
Dell EMC PowerEdge T150 Tower Server (E-2314.8GB.1TB) - No Controller
Dell EMC PowerEdge© T150 Series
Processor : Intel Xeon E-2314 2.8GHz, 8M cache, 4C/4T, turbo (65W),3200MT/s
Hard Disk Chassis : 3.5" Chassis up to 4 Cabled Hard Drives and Software RAID
Memory : 8GB 3200MT/s UDIMM, ECC
Management : iDrac9, Express 15G
Hard Disk : 1TB 7.2K RPM SATA Entry 3.5in Hard Drive Cabled - Support SATA Drive only
Optical Drive : DVD+/-RW SATA Internal
Network : On-Board LOM 5720 Dual Port 1Gb
Power Supply : 300W non-Hot Plug Power Supply
Support Services : 3Yr ProSupport Next Business Day
Processor(s)

:

Intel Xeon E-2314 2.8GHz, 8M cache, 4C/4T, turbo (65W),3200MT/s
Chassis

:

3.5" Chassis up to 4 Cabled Hard Drives and Software RAID
Memory

:

8GB 3200MT/s UDIMM, ECC
Hard Disk

:

1TB 7.2K RPM SATA Entry 3.5in Hard Drive Cabled
Storage Controller

:

No Controller
Network Controller

:

On-Board LOM 5720 Dual Port 1Gb
Power Supply

:

300W non-Hot Plug Power Supply
Warranty

:

3Yr ProSupport: Next Business Day Onsite Service
Dell EMC PowerEdge T150 Tower Server
The Dell EMC PowerEdge T150 affordably addresses common business workloads while delivering compute with an entry-level tower server.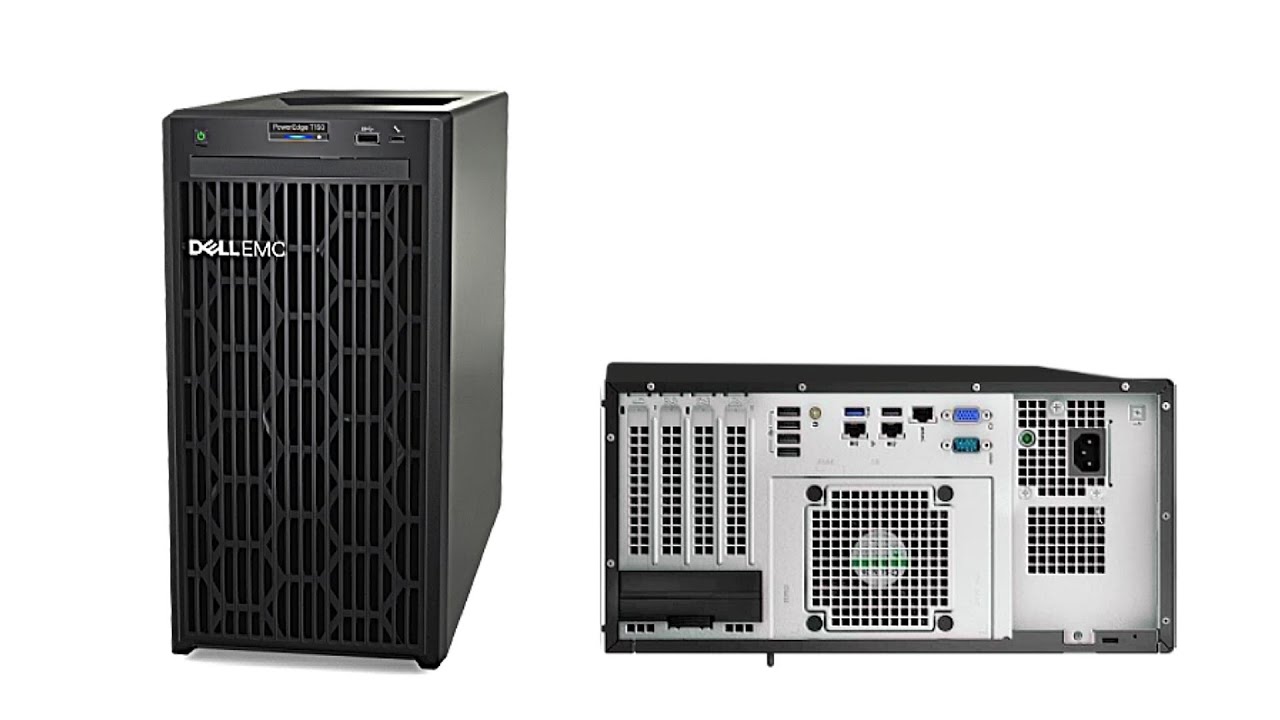 Your Innovation Engine for businesses of all sizes
The Dell EMC PowerEdge T150, powered by Intel® Xeon® E-2300 processors, delivers powerful compute for common business applications and streamlines productivity. It supports 3200 MT/s DDR4 UDIMMs, up to 128 GB for memory- intensive workloads. In addition, to address substantial throughput improvements, the PowerEdge T150 supports PCIe Gen 4 and offers enhanced thermal efficiency to support increasing power and thermal requirements. With quiet, office-friendly acoustics, the PowerEdge T150 is an ideal tower server for business critical workloads and point of sale transactions for small to midsized businesses inside and outside of the data center.
Increase efficiency and accelerate operations with autonomous collaboration
The Dell EMC OpenManage systems management portfolio tames the complexity of managing and securing IT infrastructure. Using Dell Technologies' intuitive end-to-end tools, IT can deliver a secure, integrated experience by reducing process and information silos to focus on growing the business. The Dell EMC OpenManage portfolio is the key to your innovation engine, unlocking the tools and automation that help you scale, manage, and protect your technology environment.
Built-in telemetry streaming, thermal management, and RESTful API with Redfish offer streamlined visibility and control for better server management

Intelligent automation lets you enable cooperation between human actions and system capabilities for added productivity

Integrated change management capabilities for update planning and seamless, zero-touch configuration and implementation

Full-stack management integration with Microsoft, VMware, ServiceNow, Ansible, and many other tools
Protect your data assets and infrastructure with proactive resilience
The Dell EMC PowerEdge T150 server is designed with a cyber-resilient architecture, integrating security deeply into every phase in the lifecycle, from design to retirement.
Operate your workloads on a secure platform anchored by cryptographically trusted booting and silicon root of trust

Maintain server firmware safety with digitally signed firmware packages

Prevent unauthorized configuration or firmware change with system lockdown

Securely and quickly wipe all data from storage media, including hard drives, SSDs, and system memory with System Erase

UEFI Secure Boot prevents systems from booting from unsigned or unauthorized pre-boot device firmware, applications, and OS boot loaders, protecting systems from malware corrupting the startup process
 New and Improved Performance for Your Business
 The Dell EMC PowerEdge T150 Tower Server offers a powerful, reliable, and scalable solution for businesses of all sizes. The T150 combines industry-leading performance with expandability and manageability, making it an ideal choice for businesses looking to improve their IT infrastructure. This article will explore the features and benefits of the new Dell PowerEdge T150, including its performance, scalability, storage, and security.
Unmatched Performance: Dell T150 Server
The PowerEdge T150 Tower Server boasts exceptional performance, with the latest Intel Xeon Scalable processors that deliver enhanced computing power. With multiple configuration options, businesses can tailor the T150 to meet their unique needs and achieve maximum productivity.
Scalability: EMC T150 Server
The T150 server offers unparalleled scalability, ensuring that your business can grow without being held back by technology limitations. With support for up to 512GB of DDR4 memory and multiple storage options, the T150 provides a future-proof solution that can expand as your needs evolve.
Storage: PowerEdge T150 Storage
The Dell T150 Tower Server offers a range of storage options to suit different business requirements. Choose from hot-plug HDDs or SSDs, as well as NVMe PCIe SSDs for increased performance and faster data access. The T150 also supports various RAID configurations, ensuring data redundancy and protection.
Security: T150 Server Security
The Dell PowerEdge T150 places a strong emphasis on security, with a range of features designed to protect your business data and maintain system integrity. The server includes hardware-based security measures such as Secure Boot, TPM 2.0, and intrusion detection, as well as software-based solutions like Dell EMC Cyber Resilient Architecture for comprehensive protection.
Expandability: Dell T150 Expandability
The Dell EMC PowerEdge T150 is designed with expandability in mind, ensuring that your server can adapt to changing business requirements. The T150 offers numerous PCIe slots, allowing for the addition of extra network cards, graphics cards, or storage controllers. This flexibility makes the T150 an ideal solution for businesses looking to future-proof their IT infrastructure.
Remote Management: PowerEdge T150 Remote Management
The T150 Tower Server comes equipped with Dell's Integrated Dell Remote Access Controller (iDRAC), providing comprehensive remote management capabilities. This feature allows IT administrators to monitor, troubleshoot, and maintain the server from any location, minimizing downtime and maximizing efficiency.
Environmentally Friendly: T150 Server Environmentally Friendly
Dell is committed to reducing its environmental impact, and the PowerEdge T150 is no exception. The server uses energy-efficient components and has a compact design that minimizes its physical footprint. Additionally, Dell offers comprehensive recycling programs to help businesses responsibly dispose of old hardware.
Conclusion
The Dell EMC PowerEdge T150 Tower Server is an ideal solution for businesses seeking a powerful, scalable, and secure server. With its exceptional performance, expandability, storage options, and security features, the T150 is a smart investment for businesses looking to stay ahead in today's competitive market. Explore your options today and experience the benefits of the new and improved Dell PowerEdge T150.
The HP ProOne 440 All-in-One provides users with the commercial-grade performance, security, and scalability in a space-saving design. This PC is powered by the latest Intel® processor[2] and protected with always-on security you can trust.
Enhanced meeting experience
This AiO's enhanced intelligent features help reduce unwanted background noise and adapt to environmental lighting.
Tools to amplify productivity
Accomplish your daily activities with the essential features that help you fulfill the needs of your business.
Protected by HP Wolf Security
HP Wolf Pro Security Edition PCs interlace HP Sure Click Pro with HP Sure Sense Pro providing more in-depth coverage than the standard versions through a 1-year or 3-year user license with HP Support.[5] This creates a powerful, single solution that doesn't require an IT-managed PC environment.